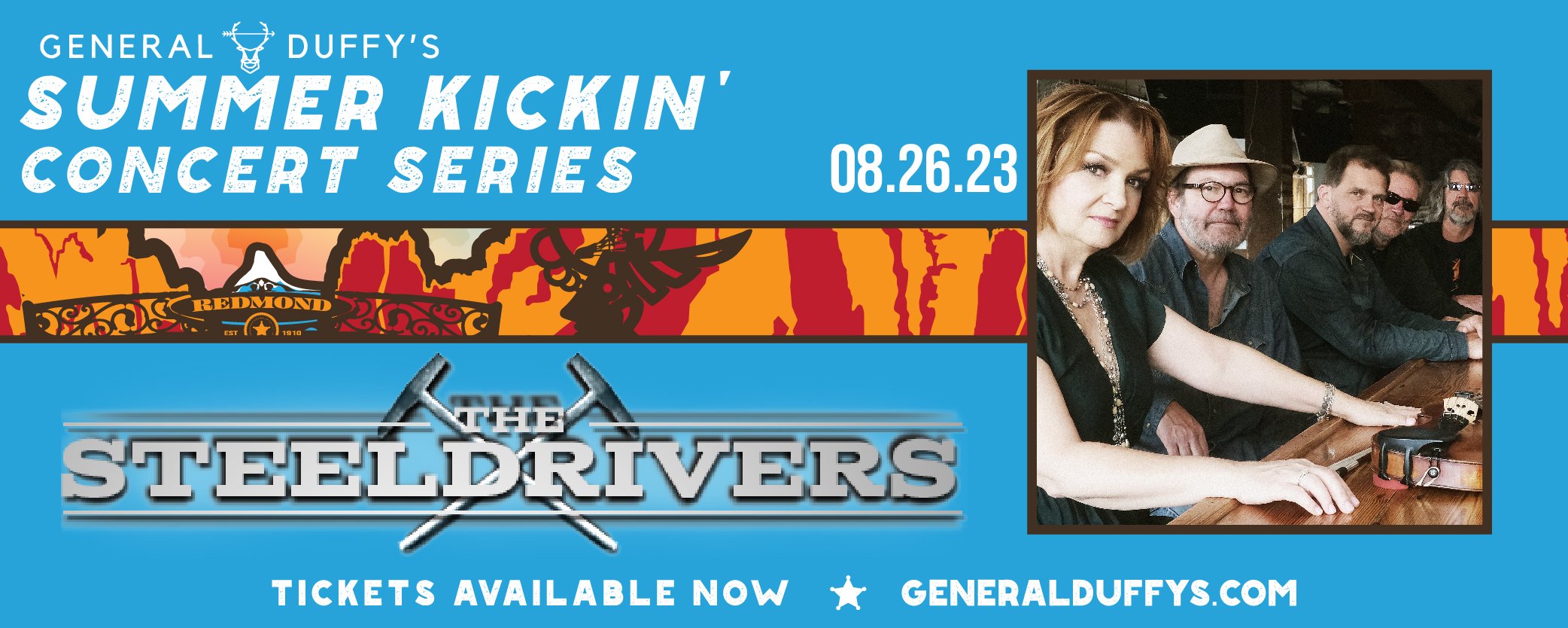 TEXT TO WIN all weekend with US 101 – and you could be headed to Redmond on Saturday,  August 26th to see THE STEELDRIVERS at General Duffy's Waterhole!  One (1) grand prize winner will even enjoy a free ONE-NIGHT stay at WAYPOINT HOTEL – a boutique hotel experience located in Bend's Midtown!   The more you listen to US 101 the weekend of August 18- 20 the more text to win codes you'll discover – send them in to US at 541-284-1101 – because each one is another entry in our Monday, August 21st drawings!  Must be 21+  to enter.
GET A BONUS ENTRY NOW WHEN YOU FOLLOW GENERAL DUFFY'S ON:   FACEBOOK  //  INSTAGRAM // TWITTER X
More about THE STEELDRIVERS : Specializing in a unique mix of what might be called bluegrass soul, the SteelDrivers have become one of the biggest names in progressive bluegrass after making their debut in 2005. While there's a strong traditional streak in the SteelDrivers sound, they bring a passion to their delivery that adds a distinctive flavor, and they're not afraid of adding a forceful grit to the music.  The SteelDrivers have been nominated for four Grammys, the Americana Music Association's New Artist of the Year and was IBMA's 2009 Emerging Artist of The Year. In 2015, "The Muscle Shoals Recordings" won the Grammy award for Best Bluegrass Recording.
More about WAYPOINT HOTEL: YOUR BASE AWAY FROM HOME Waypoint Hotel is a boutique hotel just off Hwy 97 in Bend's Mid-Town. Including a spacious lobby featuring 8 local brews and ciders on tap, outdoor fire pits, and an on-site food truck serving comfort food. Whether traveling for work, pleasure or a bit of both, Waypoint Hotel is ideal to meet, retreat and have some fun!
More about GENERAL DUFFY'S WATERHOLE: General Duffy's Waterhole is a beer and cider taphouse with a food court and two large events venues located in Redmond, Oregon. It opened for business in 2019. Shortly after opening, Duffy's began hosting weekly street markets next to the taphouse. Later that year, General Duffy's was recognized with two awards: one for improving the city's downtown economy, and the other as Redmond's "New Business of the Year". During the coronavirus pandemic, the business survived a period of carry-out only customer service and other mandated restrictions. Duffy's owners used that time to develop The Angle, an outdoor music and events venue with space for up to 2,500 attendees. In late 2021, General Duffy's opened a large special events hall on an adjacent property; Duffy's Annex provides indoor space for music programs and other events year-round.