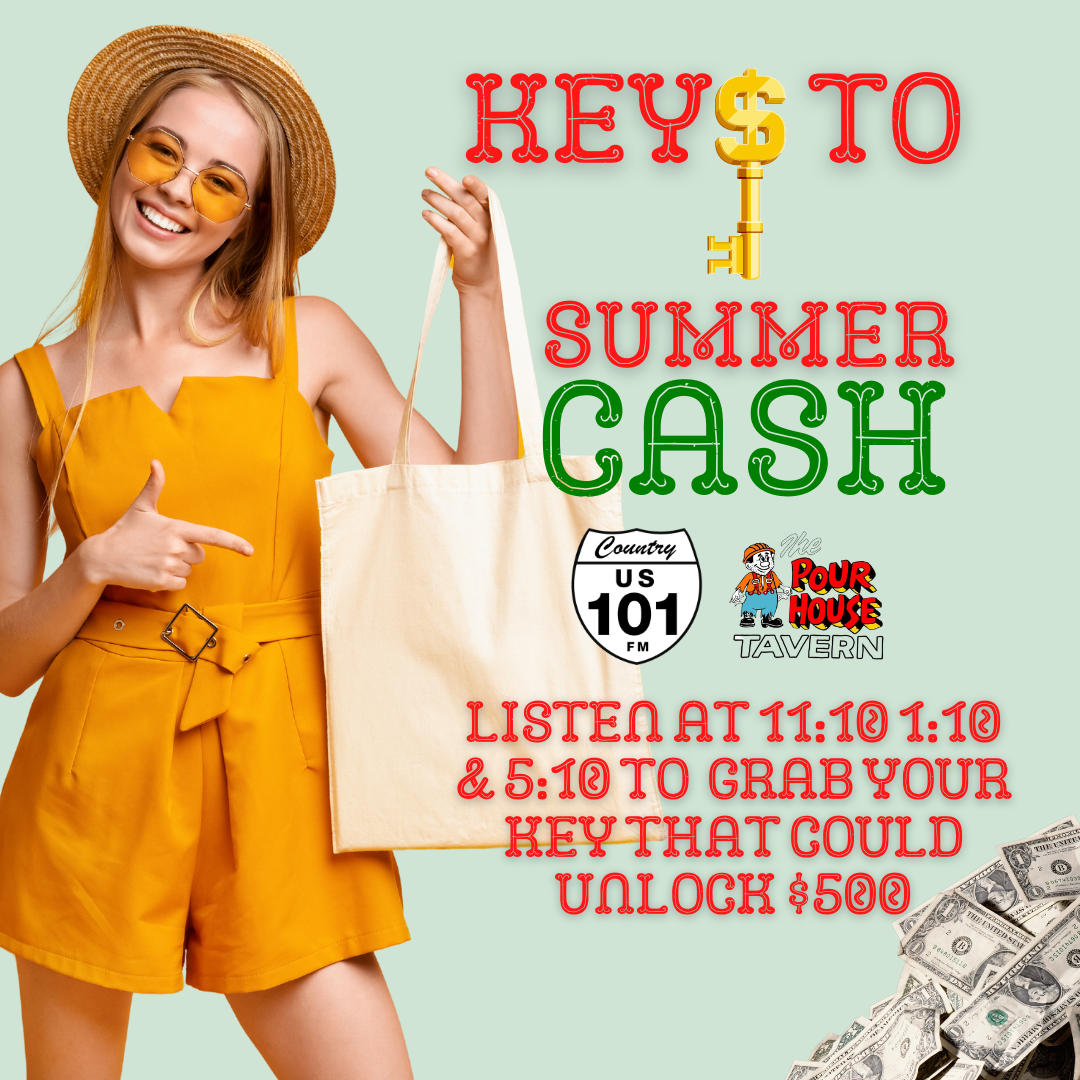 US101's KEYS to CASH is back – just in time for Summer fun!
Listen to US 101 daily at 11:10a 1:10p and 5:10p to hear us play the KEYS to SUMMER Cash Sounder – when it does Caller #10 at 541-284-1101 wins their key that could unlock our cash safe and score them $500 during our Saturday drawing at The Pour House Tavern on 42nd Street in Springfield!
MUST BE 21+ to enter.  MUST be present to win.  One (1) KEY per person.
We'll hold weekly drawings on Saturday, June 3rd –  Saturday, June 10- Saturday June 17, 2023
Check-in will begin at 11:45a – Bring your friends and family – we'll find our final qualifer on site before the giveaway begins!
Our FINAL KEYS to CASH drawing will be held Thursday  June 22, 2023 at 6pm!
Check-in will begin at 5:30pm – as always bring your friends and family and we'll find our final qualifiers that night!
Each qualifier will select an order # at random upon check in. Once all qualifers are present, key seletion will begin using the order determined during check in.  Then – in that order – each qualifier will attempt to open the lock on our cash safe.  Only one key will unlock the safe and win the $500 cash card inside!
Qualifications are good for one week only – non transferable.  Qualifiers who do not win the cash prize are immediatly eligible to play again the following week.  Only one cash winner per household.  For complete station rules click HERE!
Thanks to our friends at The Pour House Tavern for hosting the Keys to Cash giveaways!  Follow them on socials to keep up to date on daily specials, upcoming promotions and more fun thngs happening at The Pour House – where there's always great food, drinks and service!
Pour House Tavern on Instagram
Pour House Tavern on Facebook