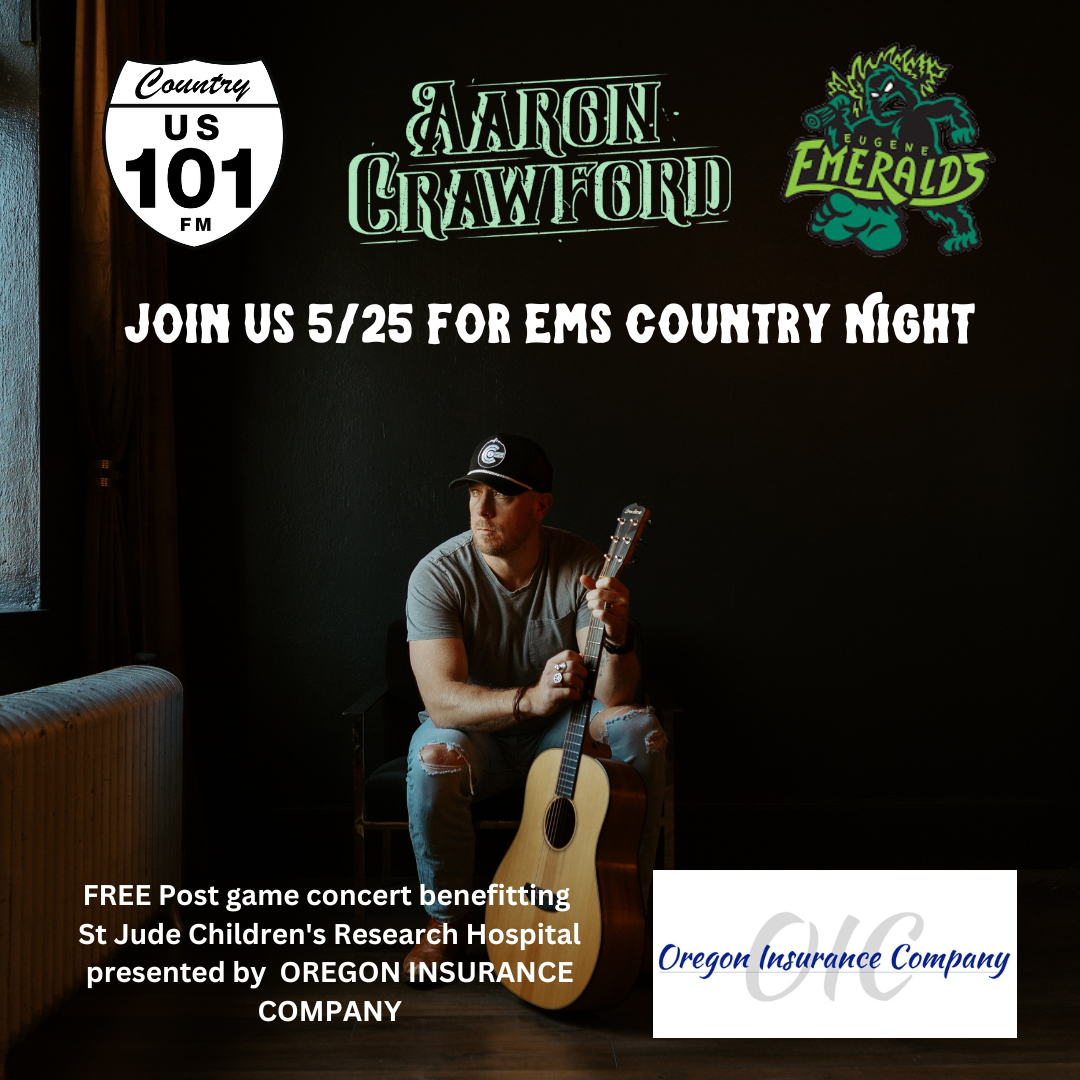 The Eugene Emeralds are back at PK Park providing fun for the whole family all summer long. CLICK HERE for a game schedule and to learn more about their packed
promotional schedule –there's always something amazing happening at the ballpark!
WE WANT TO SEE YA U-CREW!
Join US 101 for COUNTRY NIGHT at the Ems – Thursday, May 25th vs Evertett! We'll take over the evening with great music, fun surprise promotions, awesome giveaways and a FREE Post Game Concert featuring AARON CRAWFORD to benefit St Jude Children's Research Hospital – so swing by & stay late to support the kids!
More on AARON CRAWFORD:
Website: crawfordaaronmusic.com
Facebook.com/crawfordaaronmusic
Instagram.com/aaroncrawfordmusic
Youtube.com/crawfordaaronmusic
Molded by his love for Classic Country, but influenced by the Seattle Grunge scene, Aaron Crawford's is an emerging artist that is beginning to bubble to the surface. Approaching his career with a blue collar mentality, Crawford writes and records his way (with a little help from his friends) choosing to start his career in the oft overlooked country scene of the Great Northwest. Ready to branch out, he's paid the dues. Logging over 1,000 gigs, he's at home on the stage, and you can tell. His live show is just that: a show. Unsatisfied with an spectator approach to the audience, his desire to connect with each fan draws them in. With the release of his 5th studio album, he has planted his flag as an articulate and powerful songwriter, singer, and performer.
More on St Jude Children's Research Hospital
St. Jude Children's Research Hospital® is leading the way the world understands, treats and defeats childhood cancer and other life-threatening diseases. Our purpose is clear: Finding cures. Saving children.® Families never receive a bill from St. Jude for treatment, travel, housing or food – so they can focus on helping their child live. Because of generous donor support, St. Jude can provide children cutting-edge treatments not covered by insurance, at no cost to families. St. Jude cares for some of the world's sickest children regardless of their race, ethnicity, beliefs, or ability to pay. Our patients receive the customized care they need to treat childhood cancer and other life-threatening diseases, no matter what barriers they may face. When St. Jude opened in 1962, childhood cancer was considered incurable. Since then, St. Jude has helped push the overall survival rate from 20% to more than 80%. In many developing countries, however, only 1 out of 5 children diagnosed with cancer will survive. We won't stop until no child dies from cancer, no matter where they live.
Every child deserves a chance to live their best life and celebrate every moment. When you support St. Jude, you help give kids with cancer around the world that chance. Together, we can save more lives.