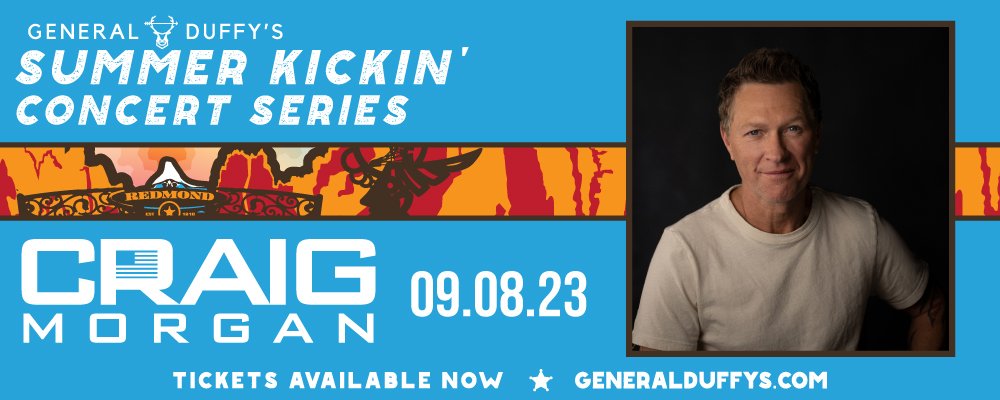 TEXT TO WIN all weekend with US 101 – and you could be headed to Redmond on Friday, September 8th to see CRAIG MORGAN at General Duffy's Waterhole! Did we mention you'll be rolling to the SOLD-OUT VIP section????  Plus –  One (1) grand prize winner will get upgraded to a free ONE-NIGHT stay at WAYPOINT HOTEL located in Bend's Midtown!   The more you listen to US 101 thiss Labor Day Weekend -the more text to win codes you'll discover – send them in to US at 541-284-1101 – because each one is another entry in our Tuesday, September 5th drawings!  Must be 21+  to enter.
HERE'S ONE TO GET YOU STARTED!!!  TEXT LONELY TO 541-284-1101
More about CRAIG MORGAN:A multi-faceted entertainer, Craig Morgan has made a name for himself as a country music icon, TV personality, celebrated outdoorsman and patriotic Army veteran. One of country music's best-loved artists, Morgan has charted 25 songs on Billboard and thrills massive crowds with signature hits including "Bonfire," "Almost Home," "Redneck Yacht Club," "International Harvester," "This Ole Boy," "Soldier," "Wake Up Loving You," "That's What I Love About Sunday" and his faith-filled tribute to his son Jerry, "The Father, My Son and The Holy Ghost."  Craig received one of country music's highest honors when he was inducted as a member of the Grand Ole Opry. Prior to becoming a country music star and TV sensation, Morgan spent seventeen years serving our country in the Army and Army Reserves. Morgan remains an avid supporter of America's military personnel and has made more than 16 overseas trips to perform for our troops. He is a member of the U.S. Field Artillery Hall of Fame and recipient of the USO Merit Award. In 2018 was awarded the Army's Outstanding Civilian Service Medal, one of the highest awards the Department of the Army can bestow upon a civilian, in recognition of his significant dedication to our military men and women around the world. He remains committed to supporting active duty and veteran members of our military through work with Operation Finally Home, the USO and more.  This fall, Craig will release his gripping new memoir — God, Family, Country — in partnership with Blackstone Publishing. He details all aspects from his inspiring life, revealing never-before-heard stories including how he worked alongside the CIA as a soldier in Panama, fought sex traffickers as an undercover agent in Thailand, forged his own path to country music stardom, and lives his life by the deepest values: God, family, country.
More about WAYPOINT HOTEL: YOUR BASE AWAY FROM HOME Waypoint Hotel is a boutique hotel just off Hwy 97 in Bend's Mid-Town. Including a spacious lobby featuring 8 local brews and ciders on tap, outdoor fire pits, and an on-site food truck serving comfort food. Whether traveling for work, pleasure or a bit of both, Waypoint Hotel is ideal to meet, retreat and have some fun!
More about GENERAL DUFFY'S WATERHOLE: General Duffy's Waterhole is a beer and cider taphouse with a food court and two large events venues located in Redmond, Oregon. It opened for business in 2019. Shortly after opening, Duffy's began hosting weekly street markets next to the taphouse. Later that year, General Duffy's was recognized with two awards: one for improving the city's downtown economy, and the other as Redmond's "New Business of the Year". During the coronavirus pandemic, the business survived a period of carry-out only customer service and other mandated restrictions. Duffy's owners used that time to develop The Angle, an outdoor music and events venue with space for up to 2,500 attendees. In late 2021, General Duffy's opened a large special events hall on an adjacent property; Duffy's Annex provides indoor space for music programs and other events year-round.