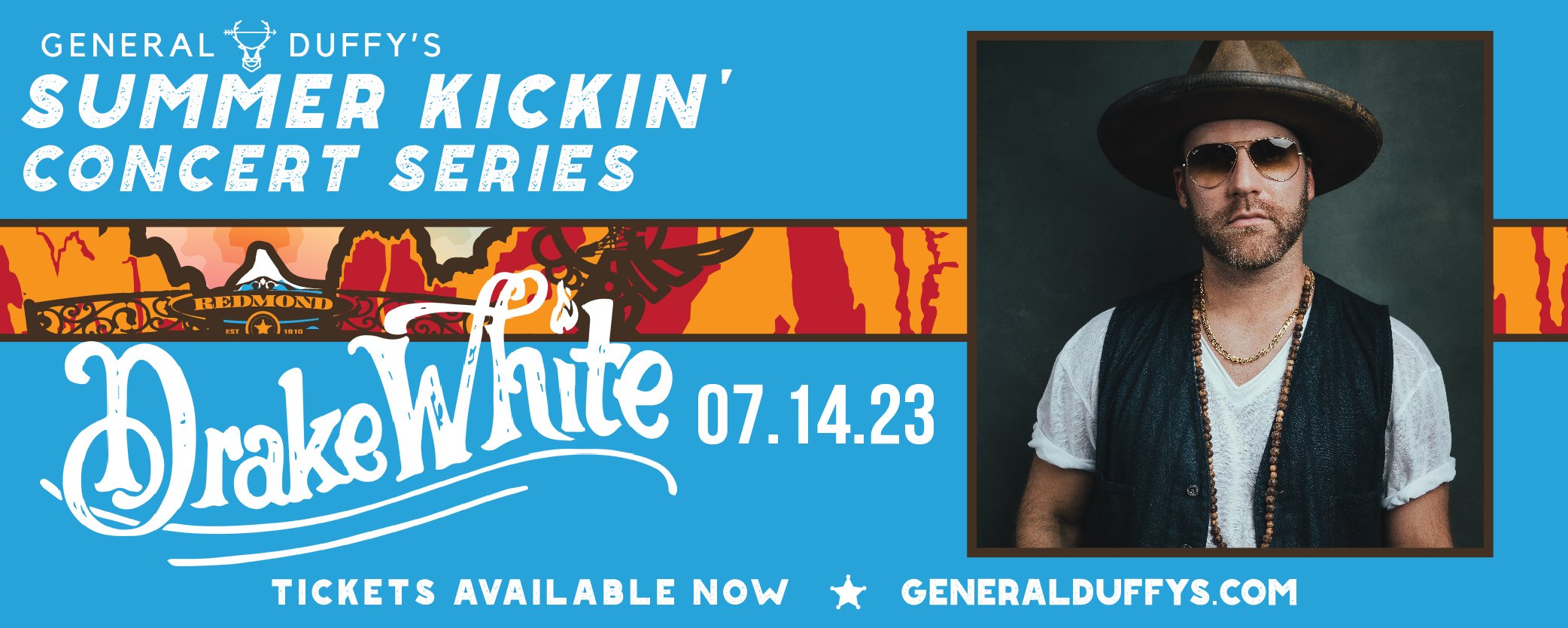 TEXT TO WIN all weekend with US 101 – and you could be headed to Redmond on Friday, July 14th to see DRAKE WHITE at General Duffy's Waterhole!  One (1) grand prize winner will even enjoy a free ONE-NIGHT stay at WAYPOINT HOTEL – a boutique hotel experience located in Bend's Midtown!   The more you listen to US 101 the weekend of July 7 – 9th the more text to win codes you'll discover – send them in to US at 541-284-1101 – because each one is another entry in our Monday, July 10th drawings!  Must be 21+  to enter.
HERE'S ONE TO GET YOU STARTED!!!  TEXT STOMP TO 541-284-1101
More about DRAKE WHITE: To listen to Drake White's music is to fully experience the soul and rhythm of his upbringing in the Appalachian foothills of Northeastern Alabama. The undeniable sound of his soulful voice has whipped concert audiences across the country into a frenzy as Drake and his band, The Big Fire, raise the roof and summon spirits to life onstage. It's equal parts Baptist tent revival and amped-up southern rock festival. As you watch Drake crank the energy level up higher and higher throughout the night, you feel as if you'd walked in on a live gospel album backed up by all-stars from The Allman Brothers and Lynyrd Skynyrd. Of course those acts hit musical pay dirt recording in Muscle Shoals, Alabama in the late '60s and '70s, a little over two hours west of Drake's tiny hometown of Hokes Bluff.  The same fire that drives Drake to pour his entire being in to those performances also demands that he continue exploring and refining that country soul sound, which the world first heard on his debut album, 2016's SPARK (Big Machine Label Group). In the spirit of propelling his music forward, Drake teamed up with a crew of Nashville's most creative musicians in an effort to, as he says, "Bridge that gap between Nashville and Muscle Shoals." It's in the crossroads of those two musical worlds that you'll find Drake White's new five-song EP, PIECES (BMLG Records) . The new project is helmed by hit producer busbee, best known in country circles for his work with Maren Morris and Keith Urban.
More about WAYPOINT HOTEL: YOUR BASE AWAY FROM HOME Waypoint Hotel is a boutique hotel just off Hwy 97 in Bend's Mid-Town. Including a spacious lobby featuring 8 local brews and ciders on tap, outdoor fire pits, and an on-site food truck serving comfort food. Whether traveling for work, pleasure or a bit of both, Waypoint Hotel is ideal to meet, retreat and have some fun!
More about GENERAL DUFFY'S WATERHOLE: General Duffy's Waterhole is a beer and cider taphouse with a food court and two large events venues located in Redmond, Oregon. It opened for business in 2019. Shortly after opening, Duffy's began hosting weekly street markets next to the taphouse. Later that year, General Duffy's was recognized with two awards: one for improving the city's downtown economy, and the other as Redmond's "New Business of the Year". During the coronavirus pandemic, the business survived a period of carry-out only customer service and other mandated restrictions. Duffy's owners used that time to develop The Angle, an outdoor music and events venue with space for up to 2,500 attendees. In late 2021, General Duffy's opened a large special events hall on an adjacent property; Duffy's Annex provides indoor space for music programs and other events year-round.