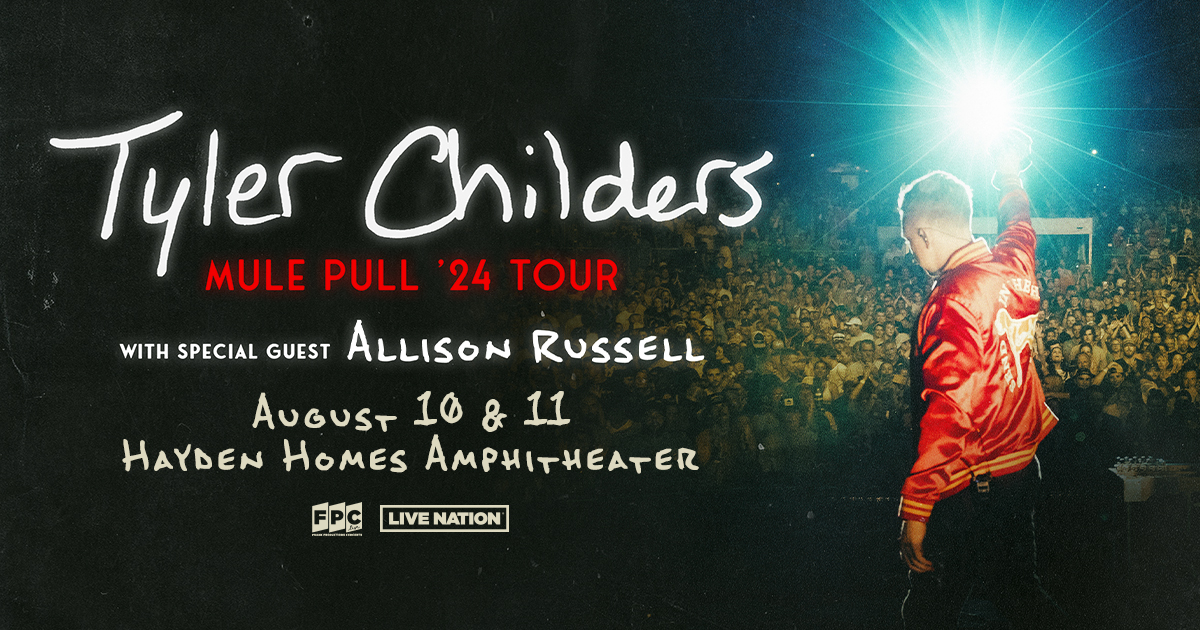 JUST ANNOUNCED – HIS ONLY OREGON SHOWS!  Tyler Childers is bringing his Mule Pull Tour 2024 and special guest Allison Russell  to Hayden Home Amphitheater for not one – but two incredible nights!   US 101 has your verified pre-sale registration info and your chance to win your tickets before they go on-sale!
TM VERIFIED PRE-SALE begin Wednesday, October 11th at 10am – register for access HERE!
US 101 is proud to welcome Tyler Childerns – and has your first chance to win your tickets – before the go on sale – all this week!
Listen to Bobby Bones each morning for that days TYLER CHILDERS code word- then listen to Val Steele after 5pm and get ready to call 541-284-1101 when she ask for the codword – because when she does – Caller #10 with that days codeword will instantly win a pair of tickets to the Saturday, August 10th show!
MISS THE CODE WORD?  We'll give it out multiple times through out the work day – or get connected to our socials and catch the daily post!   
Here's wherer to find US:   INSTAGRAM // FACEBOOK // TWITTERX
More about TYLER CHILDERS:  A plain-spoken poet for the dreams and struggles of a working class, his music takes listeners to real places – backroad church pews, sticky-hot swimming holes and freshly-plowed farm fields, to name a few. Childers' melodies feel lived-in, like joining a circle of familiar faces in a well-worn basement or on a shaded porch, the gathering place for folks of all kinds to share truths or swap tall tales after a long day.  Since he emerged from the hills of Appalachia, Childers has stormed the world with his uncompromising voice and a candid collection of songs. He skyrocketed from playing inside sweat-soaked clubs to becoming one of today's most sought-after artists. With his longtime band, The Food Stamps, Childers headlines historic festival stages and delivers high-flying sold-out shows inside arenas, amphitheaters and concert halls across the globe.  And many who time-and-again drop a needle on his music embrace Childers like an author to a new chapter in America's long, revered songbook of country and folk music – a testament to how far a well-told story can travel. No matter if he's delivering a fiddle tune with a hard-spoken truth or leading his band in an open-armed country-soul sermon, new Childers music arrives with layers of time-tested storytelling. And on his anticipated new album, Rustin' In The Rain, the circle of tales in Childers' catalog grows a little bigger with a fresh collection of big-hearted, wry-humored love songs and dirt-covered country romps.  The 2x Grammy Award-nominated singer, songwriter and musician returned to the studio with The Food Stamps – James Barker (pedal steel), Craig Burletic (bass), CJ Cain (guitar), Rodney Elkins (drums), Chase Lewis (keyboards) and Jesse Wells (guitar, fiddle) – to record Rustin'. In a testament to the well-oiled grooves of the group, it's the second consecutive release to be cut and co-produced by Childers alongside the Food Stamps, once again recording at Barker's home studio, Dragline, in Huntington, West Virginia.  With Rustin' In The Rain, the 32-year-old Kentucky native pulled together songs with a playful concept: What would he pitch to Elvis Presley? Graceland-era Presley, to be exact. Listeners hear the result on songs like lead single "In You Love" – a timeless, piano-tinged I'll-wait-for-your-love ballad released alongside a heart-wrenching music video of two men falling for each other in 1950s rural Appalachia – and "Phone Calls & Emails," a story of modern missed connections set to the backdrop of a crooning, classic country tune.  On "Luke 2:8-10," Childers enlists background vocals from a one-of-a-kind trio: Margo Price, Erin Rae and S.G. Goodman, three standout singer-songwriters. The expanded band delivers a rustling three-minute song about a panicked shepherd witnessing the descent of an angel from the heavens. Collaborations on Rustin' continue on "Percheron Mules," a rollicking tune that includes vocals from Ronnie McCoury, Jason Carter and Alan Bartram -members of ace bluegrass band the Travelin' McCourys (McCoury also adds mandolin pickin' to the song).  And for one of two cover songs on Rustin', Childers dug into country music's balladeering catalog to unearth "Help Me Make It Through The Night." He lends his mountainous vocal to the intimate, restless 1970 song, written by Kris Kristofferson and made famous by Sammi Smith's Grammy Award-winning rendition (Presley also covered the song during a 1971 session at RCA Studio B in Nashville). To close the album, Childers covers "Space & Time," a song penned by Goodman – a fellow Kentuckian – that chronicles the need to share moments with those you hold most dear. Goodman and Rae rejoin Childers for backing vocals on the album-closing number.  Still, no new song may whip Childers' show-going audience into a frenzy like "Rustin' In The Rain," the barnstormin' opening track anchored by dueling country licks and Childers' band-leading howl – a nod to the tight-knit creatively he and the Food Stamps earned during late nights on stage and long trips on the road.  With Rustin' In The Rain, Childers pens the next chapter in an unrivaled and unreplicable story of real-life success that continues to reach new circles. And the best part? This tale's just getting started.