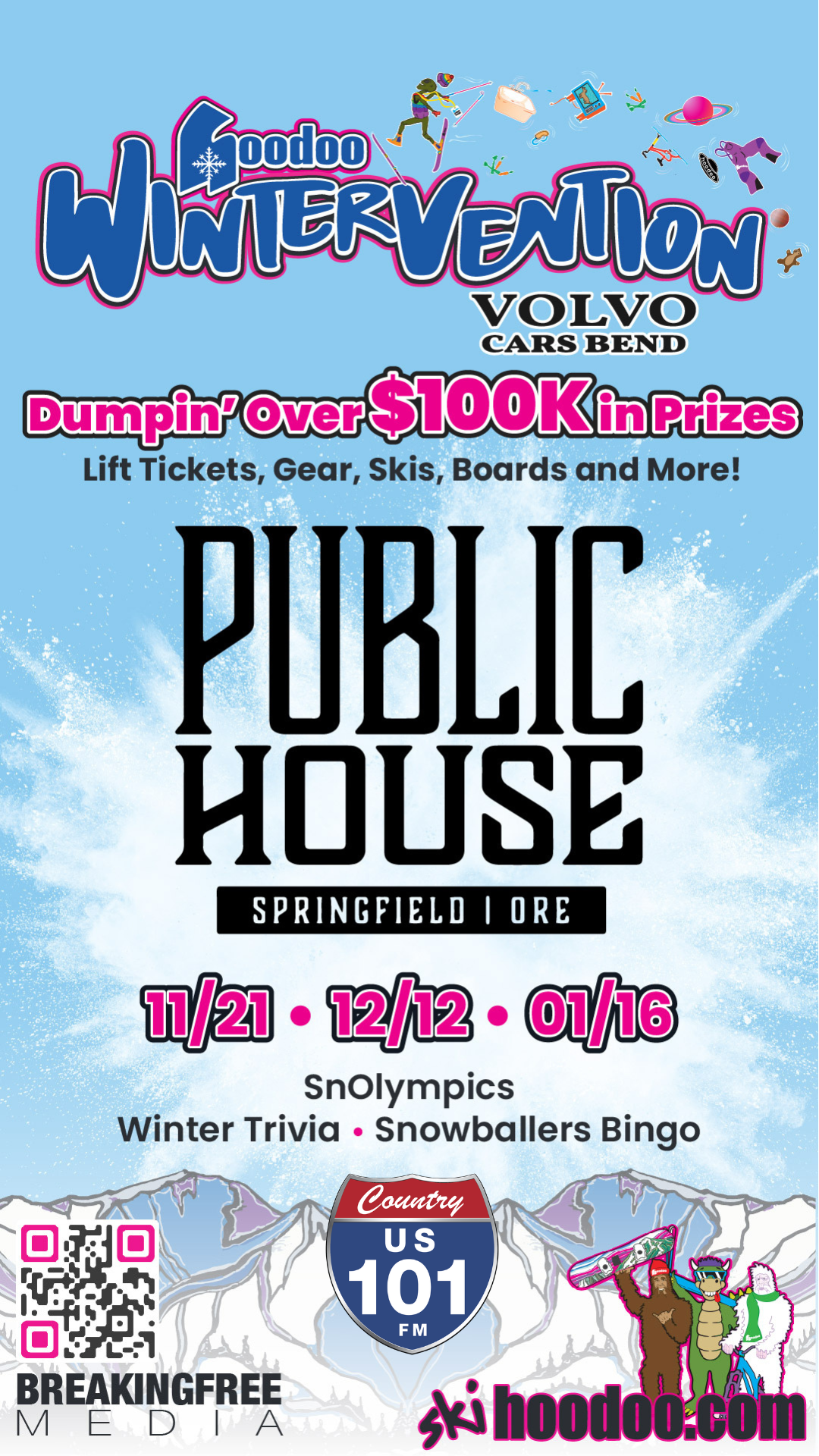 It's the biggest yard sale ever…Hoodoo's Wintervention presented by Volvo Cars Bend. It's the Pacific Northwest's deepest snow series giveaway and it's coming to a venue near you. Get geared up this season as we dump 100K in' prizes including lift tickets, gear, skis, boards, and more.
JOIN US 101 COUNTRY at PUBLICHOUSE in Springfield for our FREE Wintervention events on Tuesday, November 21 – Tuesday, December 12 and – Tuesday, January 16th – all events are 6p – 8p and open to ALL AGES
Support Hoodoo's Family of Partners…Ablis CBD, Avid Cider, Armada, Bigfoot Beverages, Pepsi, Blackstrap, Cascade Spirits, CoEnergy Propane, Deviation Works, Eaglecrest Ski Area, Edelrid, First Interstate Bank, Five Pine Cabins, Forth Distilled Goods, General Duffy's Waterhole, The Annex, Hoodoo's Hillside Ski and Sport, Lake Creek Lodge, The Barn, Luckey's Woodsman, Mt Shasta Ski Park, Mt. Ashland Ski Area, Next Adventure, Poler, PublicHouse, Hoodoo's Santiam Snolab, Seven Peaks, Tallman Brewing, Tactics Boardshop, Three Creeks Brewing, Volcanic Theater, The Wakefield House, Volvo Cars Bend, Look Out Fox & Breaking Free Media.
10/20 – 10/21 Corvallis Ski Swap @ Benton County Fairgrounds
1027 – 10/28 Eugene Ski Swap @ Lane County Events Center
10/28 Sisters Happy Run @ Sisters Oregon
11/2 – 11/5 SNOWVANA @ Oregon Expo Center
11/17 Warren Miller @ McDonalds Theatre Eugene
11/24 Sisters Tree Lighting
11/25 Warren Miller @ Whiteside Theatre Corvallis
1125 Sisters Christmas Parade
OPENING DAY???
12/31 New Years Celebration @ Hoodoo
1/4 – 3/31 Thrifty Thursdays @ Hoodoo
1/5 – 3/29 Friday Night Lights @ Hoodoo
2/10 Enchanted Nordic Trek @ Hoodoo
2/17 – 2/19 Presidents Day Weekend @ Hoodoo
2/24 Winter Carnival @ Hoodoo
3/2 Viking Fest @ Hoodoo
3/16 Preview the New @ Hoodoo
3/30 Rodeo Day @ Hoodoo
3/31 Easter Sunday @ Hoodoo
4/5 – 4/6 Snake Run Rally @ Hoodoo
4/13 Spring Fringe @ Hoodoo