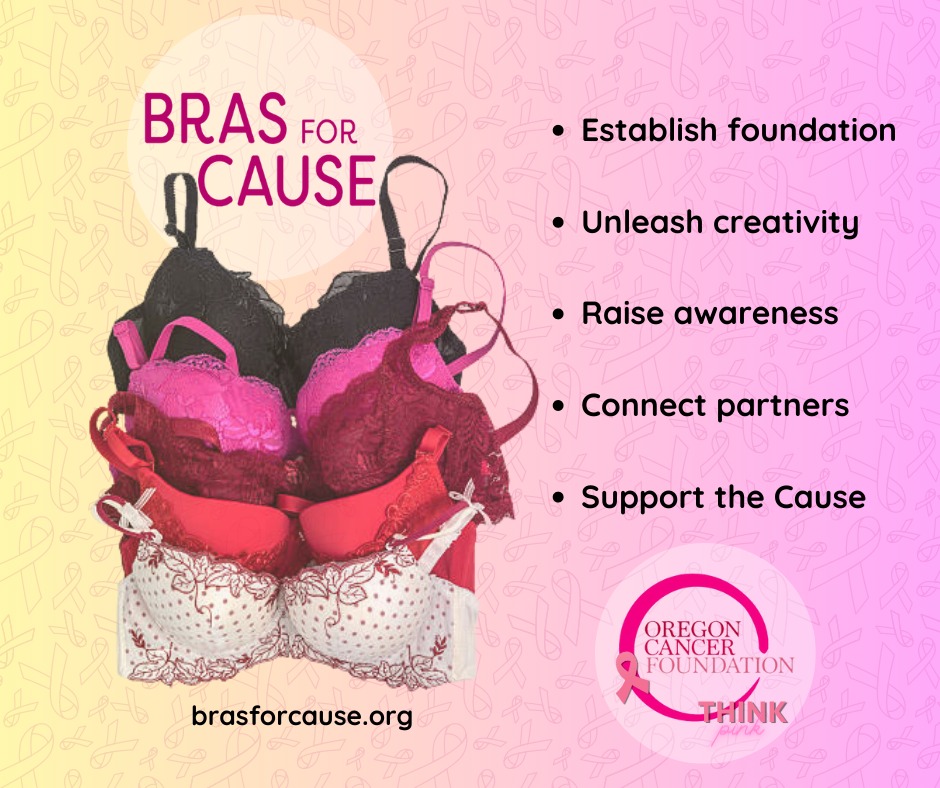 A GROWING COMMUNITY MOVEMENT
Entries are being accepted now for Oregon Cancer Foundation's Annual Community Art Fundraiser – BRAS FOR CAUSE!!!
Proudly supported by Oregon Surgical Wellness – Dari Mart – Willamette Valley Cancer Institute & Research Center – Bras for Cause brings the community together in a unique and creative way – to assist our friends and neighhors grappling with a cancer diagnosis.
So whether you design a bra on your own – with a friend – or as part of business or group team, nows the time to pick a fun theme and start designing.   This is an ALL AGES event – so make it a family affair!   It costs $25 to register your bras – and that covers your first 25 votes as well!  All bra submissions are due by September 24th and online voting will begin on Sunday, October 1st.  Designs will also be on display for the month at Valley River Center.
TAKE A LOOK AT PAST DESIGNS here – the only limit is your creativity!!!
Since Bras for Cause began, proceeds raised have helped support the work of Oregon Cancer Foundation. The Foundation provides direct financial assistance to Lane County residents and all money raised stays in our community.   Assistance provided is for everyday essentials; gas cards to get to treatment, housing & utility bills, medication & even groceries – Truly a group of neighbors helping neighbors.
JOIN THE FUN 0 LEARN MORE NOW >>>> https://www.brasforcause.org
*Establish your foundation
*Unleash your creativity
*Raise Breast Cancer Awareness
*Connect with your partners
*Support Bras for Cause