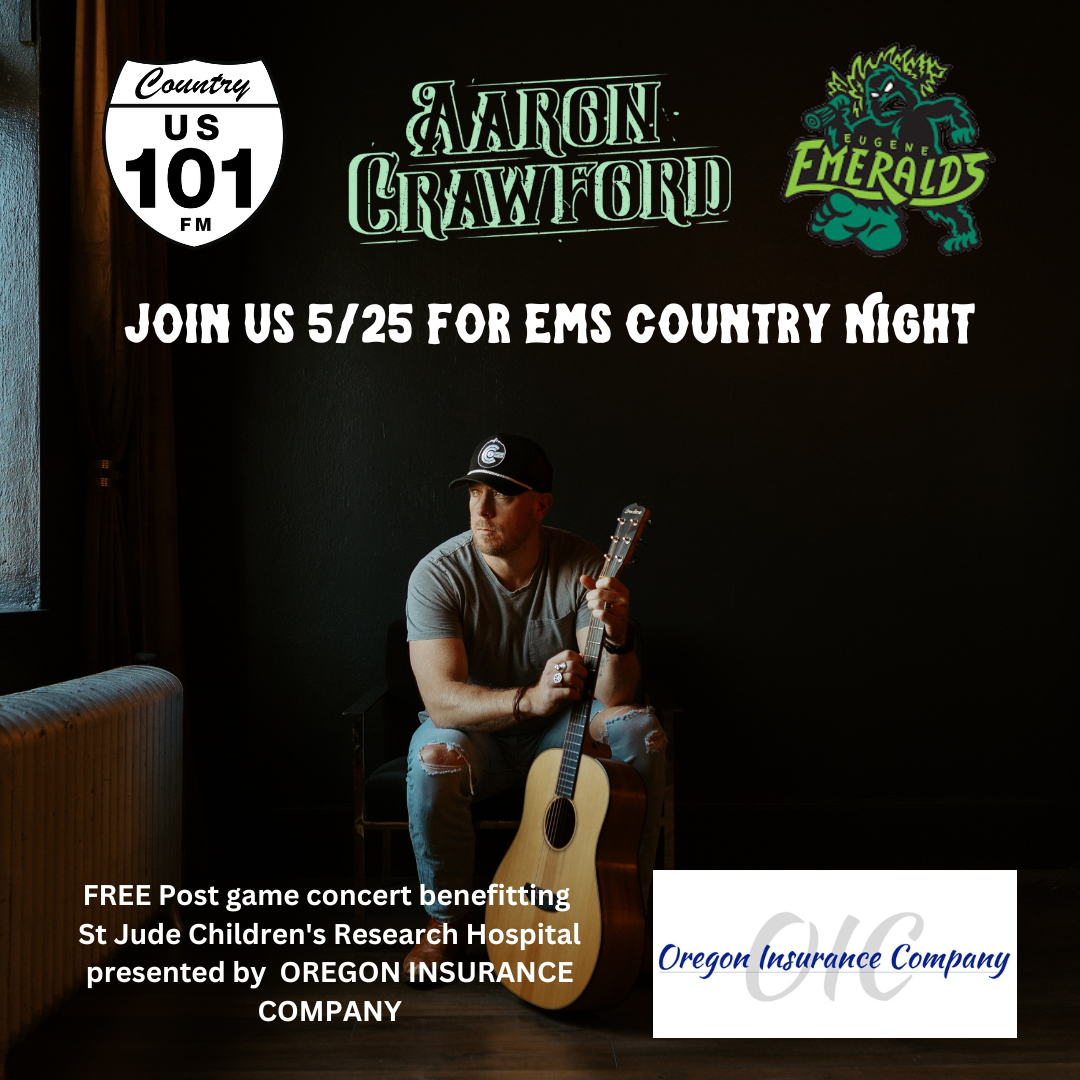 The Eugene Emeralds are back at PK Park providing fun for the whole family all summer long. CLICK HERE for a game schedule to learn more about their packed promotional schedule –there's always something amazing happening at the ballpark! (hyperlink: https://www.milb.com/eugene) WE WANT TO SEE YA U-CREW! Join US 101 for COUNTRY NIGHT at the Ems – Thursday, May 25th vs Spokane! We'll take over the evening with great music, fun surprise promotions, awesome giveaways and a FREE Post Game Concert
featuring AARON CRAWFORD to benefit St Jude Children's Research Hospital – so swing by & stay late to support the kids!
More on AARON CRAWFORD: Website: crawfordaaronmusic.com
Facebook.com/crawfordaaronmusic
Instagram.com/aaroncrawfordmusic
Youtube.com/crawfordaaronmusic
Molded by his love for Classic Country, but influenced by the Seattle Grunge scene, Aaron Crawford's is an emerging artist that is beginning to bubble to the surface. Approaching his career with a blue collar mentality, Crawford writes and records his way (with a little help from his friends) choosing to start his career in the oft overlooked country scene of the Great Northwest. Ready to branch out, he's paid the dues. Logging over 1,000 gigs, he's at home on the stage, and you can tell. His live show is just that: a show. Unsatisfied with an spectator approach to the audience, his desire to connect with each fan draws them in. With the release of his 5th studio album, he has planted his flag as an articulate and powerful songwriter, singer, and performer.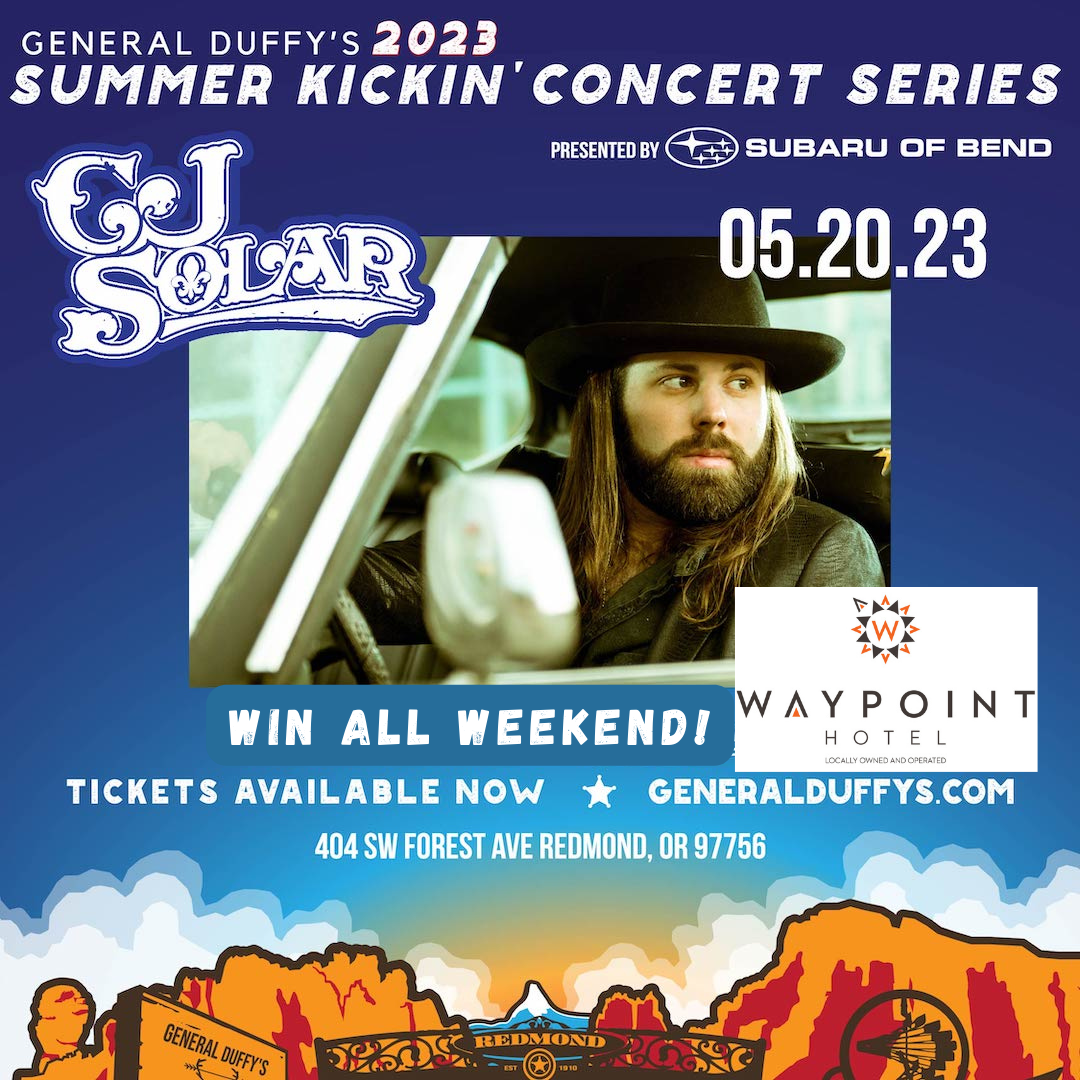 CJ SOLAR is an American country music singer-songwriter from Baton Rouge, Louisiana. As a musician, Solar has cited Southern rock acts such as Lynyrd Skynyrd and Creedence Clearwater Revival as influences, along with grunge bands of the 1990s such as Nirvana, Stone Temple Pilots, and Soundgarden.[1] As a songwriter, Solar had a #1 hit as a co-writer on Morgan Wallen's "Up Down".[2] He has written songs for Jason Aldean, Jerrod Niemann, Justin Moore, and others. As an artist, Solar was named by Rolling Stone as a "New Artist you Need To Know" and has opened for acts such as Lynyrd Skynyrd, .38 Special, Gary Allan, Chris Janson, and Hank Williams Jr.[3]
More about WAYPOINT HOTEL: YOUR BASE AWAY FROM HOME Waypoint Hotel is a boutique hotel just off Hwy 97 in Bend's Mid-Town. Including a spacious lobby featuring 8 local brews and ciders on tap, outdoor fire pits, and an on-site food truck serving comfort food. Whether traveling for work, pleasure or a bit of both, Waypoint Hotel is ideal to meet, retreat and have some fun!
More about General Duffy's Waterhole General Duffy's Waterhole is a beer and cider taphouse with a food court and two large events venues located in Redmond, Oregon. It opened for business in 2019. Shortly after opening, Duffy's began hosting weekly street markets next to the taphouse. Later that year, General Duffy's was recognized with two awards: one for improving the city's downtown economy, and the other as Redmond's "New Business of the Year". During the coronavirus pandemic, the business survived a period of carry-out only customer service and other mandated restrictions. Duffy's owners used that time to develop The Angle, an outdoor music and events venue with space for up to 2,500 attendees. In late 2021, General Duffy's opened a large special events hall on an adjacent property; Duffy's Annex provides indoor space for music programs and other events year-round.